Installing TopoGun
Run the installer and then follow the provided installation instructions. Once you have installed Topogun, go ahead and launch TopoGun.exe. By default, TopoGun starts with a demo license. In demo mode, you cannot save scenes, subdivision data, or baked maps. The demo license is for evaluation purposes only.
To use TopoGun to its full potential, you should first purchase a license from www.topogun.com. After purchasing a license, you will receive an email containing your license serial number.
When you first launch TopoGun, the License Manager window is displayed.
TopoGun has two types of licenses: standalone and floating.
A standalone license allows you to run one instance of TopoGun at a time and it can be activated on one computer at a time. In order to move it to another computer, you should deactivate it on the computer it was previously installed and activate it on the other computer. To activate the license, enter the serial number and the email address you used for purchasing TopoGun. Then, click on Activate.
If you want to move the license to another computer, open the License Manager window again and click on the Release License button. If you're sure that the license is not activated on another computer and TopoGun is not running on that computer, you can skip this step.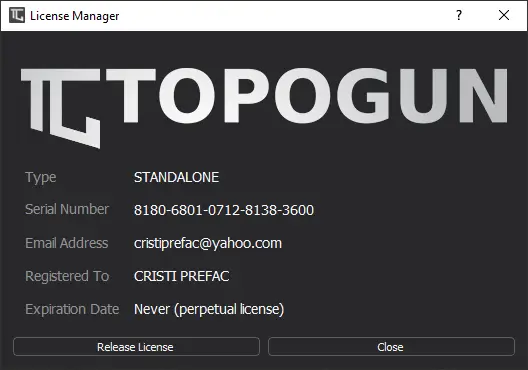 Next, activate the license on the new computer, just like before. A standalone license can be activated on up to two computers, each one at a time.
A floating license allows you to run a limited number of TopoGun instances within an unique computer network (usually a LAN). You are not allowed to use the same license on more than one network.
This kind of licensing model is useful for big studios, where there will be more than one person using TopoGun at the same time. Instead of buying a standalone license for each computer, you could buy a floating license for your network, with a number of seats usually less than the number of computers within the network.
Floating licenses are managed and installed on one computer within the network (the server). The server should have the TopoGun License Server application installed, with at least one valid floating license.
A Floating license has a special attribute, called "capacity", which defines how many computers within the Local Area Network can run a TopoGun instance. Please enter the desired capacity in the Quantity order form field. To use a floating license, you first need to set it up on a License Server. Read the License Server documentation section, to learn more about that.
In order to connect TopoGun to a local license server, choose the Floating License option in the License Manager window.
Enter the license server IP address (it can be "localhost", in case the server is running on the same machine as TopoGun), the server port (the default one is 3100), and the server password (the default one is "topogun").
Choose a name to be identified on the server and then click on the Connect button. If there is a free license seat on the server, TopoGun will us it. Otherwise, you'll get a notification message. Once a seat is released by another TopoGun license, you'll be able to connect to the server and use it.
While running TopoGun, you should have a uninterrupted network connection to the server, otherwise, it will be switched to the demo mode. In case you want to stop using the floating license, open the License Manager window and click on the Disconnect License button.
© 2023 Pixelmachine LTD. All rights reserved.